Memory Care Phoenix, Arizona
Vista Living Senior Care takes a unique approach to provide care to residents with mild to moderate Alzheimer's and Dementia-related conditions. We develop a comprehensive care plan that includes personal care, socializing, memory care, and other activities appropriate to the individual's age and functioning level. Our priority is to enhance every resident's lifestyle by catering to their interests and preferences every day. Personalized memory care in Phoenix, Arizona is our specialty.
Progressive memory loss is what defines Alzheimer's and other dementia-related illnesses. What begins as mild forgetfulness advances to a complete loss of identity, typically over a period of several years.
Memory care isn't a one-size-fits-all approach that works for every individual. At Vista Living, we provide memory care services according to an individual's stage of progression and their degree of memory loss. We facilitate engagement with their surroundings and their community. We encourage them to participate in activities they are capable of in a safe and comfortable environment.
Contact us to learn more about our Phoenix, Arizona memory care services or to schedule a tour of our residences. Read on to learn more about what sets Vista Living apart from other assisted living facilities in Phoenix, Arizona.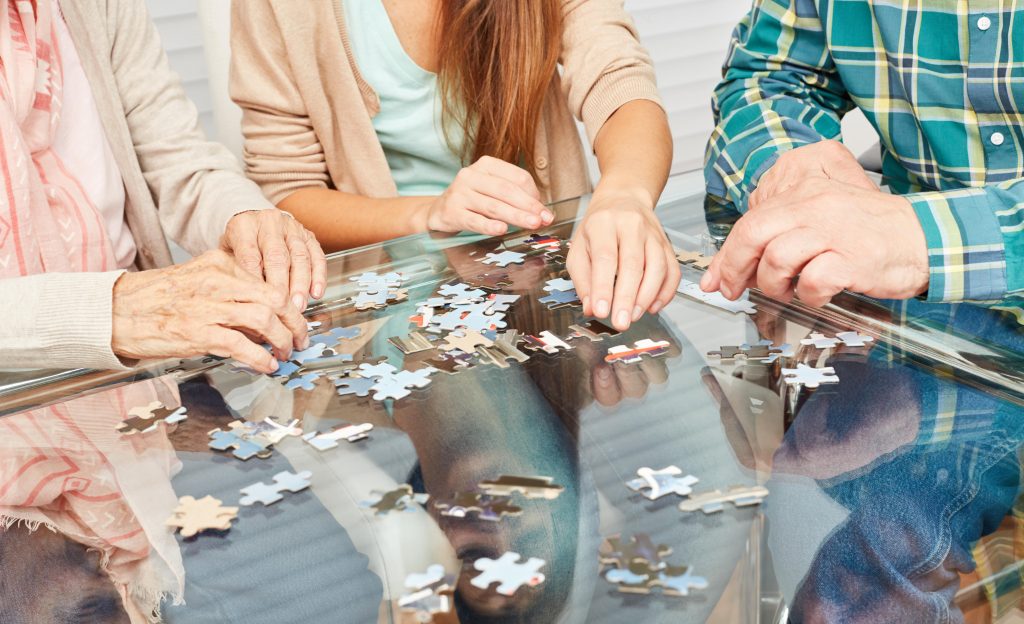 About Our Phoenix, Arizona Memory Care at Vista Living
Every new resident who enters our door has a customized care plan based on their needs and preferences. Our caring and compassionate team takes the time to get to know them and their preferences.
Our residences at Camelback and Arcadia feature 10 private suite bedrooms, each with a private bath, demonstration kitchen, and island seating. The suites have a open design with minimal hallways, creating open common areas that encourage lively activity. Residents can enjoy barbecuing on the patio, visit the beauty salon, or do rehab or exercise in our workout room.
Outdoors, we have landscaped gardens, a walking path, and raised garden beds where residents can enjoy socializing with one another and visiting family members. Our facilities encourage comfort and optimal health and happiness.
Vista Living specializes in providing memory care in Phoenix, Arizona to residents with Alzheimer's and dementia-related illnesses. Everything from the open plan of our living spaces to Vista Living hosted socializing activities, every aspect is designed to facilitate independence.
Alzheimer's Care
Alzheimer's Disease is the most common type of dementia, occurring in an estimated 5.5 million Americans aged 65 and older. Like all forms of dementia, the disease results from damaged brain cells that lead to progressive memory loss. Age is the biggest risk factor with the risk of developing the disease being five times greater for every year a person advances after the age of 65.
What Is Alzheimer's Care?
Alzheimer's care caters to people with Alzheimer's throughout the various stages of the disease. Initially, it might include assistance with bathing, managing medications, dressing, and eating. Memory care is especially important for residents at every stage of the disease. It includes 24-hour supervised care, easy-to-navigate living space that reduces the risk of wandering, and special activities that help exercise the individual's brain.
What Is Alzheimer's Disease?
Alzheimer's is an irreversible, progressive brain disorder that slowly destroys a person's memory and cognitive skills. A person with Alzheimer's gradually loses the ability to perform the Activities of Daily Living.  
What Are the Stages?
Alzheimer's disease typically progresses through three stages including:
Mild or Early Stage – During this stage of the disease, the person might function independently. They may experience only minor memory lapses that don't interfere significantly with their quality of life.
Moderate or Middle Stage – This stage is usually the longest and can last for many years. During middle stage Alzheimer's, memory loss becomes more pronounced. They might get confused more easily and have trouble performing simple tasks.
Severe or Late Stage – During late-stage Alzheimer's, symptoms are severe. The person is no longer able to communicate their feelings or pain. They might lose their ability to speak altogether. Some people undergo significant personality changes and they require extensive help with daily activities.
What Are the Main Causes?
Experts believe that Alzheimer's disease is caused by a combination of causes including genetics, lifestyle, and environmental factors. It usually begins in the area of the brain that controls memory, years before the person experiences any symptoms.
Choosing an Alzheimer's care home for a loved one in Phoenix, Arizona is challenging. Vista Living offers something different than other facilities. We place a large focus on making every resident a part of our inner and outlying community. We act as coaches and mentors who see the potential in every person. Instead of basing care on the eventual outcome of their disease, we see the potential in what they can do to live more independently today.
Contact us to schedule a tour and see firsthand what makes our Phoenix community a better place for your loved one.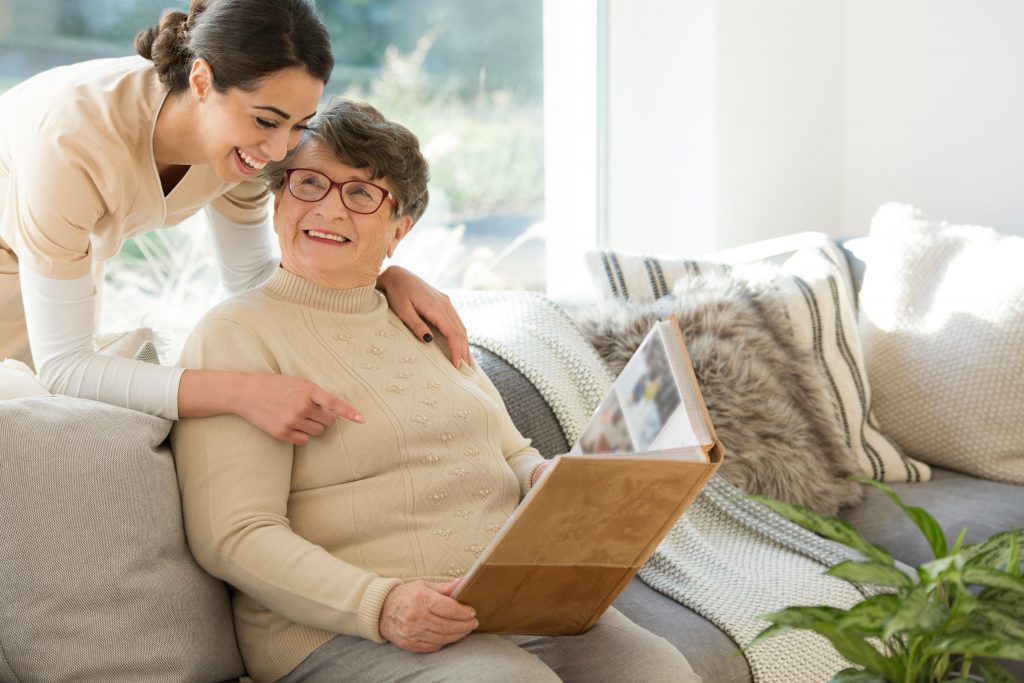 Dementia Care
If you're looking into dementia care in Phoenix for your loved one, you care about getting the best care for their needs. For the dementia patient whom the decision affects the most, freedom and individuality are still important. They want to live in a place that feels like home and a life that is filled with beautiful moments.
What is dementia care?
Dementia care includes, but is not limited to, memory care. A knowledgeable team of caregivers who take a real interest in the individual can help improve their quality of life. It's a unique approach to balancing what the person needs help with and what they can do for themselves. Personalized dementia care ranges from assisting with everyday activities to performing tasks in their entirety.
What is dementia disease?
Dementia is an umbrella term that describes a group of symptoms, primarily impaired memory loss and cognitive thinking. While Alzheimer's is the most common form of dementia, other common forms include vascular dementia, dementia with Lewy bodies, and frontotemporal dementia. Although each type form of dementia has different associated causes and symptoms, each is primarily a form of memory loss.
What are the stages?
There are 7 stages of dementia that are different for everyone who experiences them.
Stage 1 – No impairment, normal mental function
Stage 2 – Very mild cognitive decline which is often similar to normal forgetfulness associated with age
Stage 3 – Mild cognitive decline where signs and symptoms first become noticeable to family and friends
Stage 4 – Moderate cognitive decline which marks the early onset of Alzheimer's or dementia
Stage 5 – Moderately severe cognitive decline when the person first begins to need help with routine tasks (Stage 5 is often the stage where the person requires help from an in-home caregiver or moves into a memory care community).
Stage 6 – Severe cognitive decline results in an inability to do simple tasks alone, such as going to the bathroom or feeding themselves
Stage 7 – Very severe cognitive decline where the person can no longer care for themselves and they have severe motor and communication impairment
What are the main causes?
There are many causes of dementia including traumatic brain injury, Parkinson's disease, HIV, long-term alcohol and/or drug use, and Huntington's disease, as well as other factors that accelerate deterioration over time. Depending on the cause, the symptoms present themselves differently and progress at different rates. The sooner the person receives memory care, the easier the transitions to the next stage will be on everyone.
Getting Started With Memory Care Phoenix, Arizona
Memory care isn't an unfortunate consequence of dementia and Alzheimer's. At Vista Living, it's an opportunity to make the most of each day. Our team of caregivers has personal and professional experience in dealing with the effects of dementia. They understand what it takes to make every resident enjoy a healthier, happy life every day.
Making the choice to place a loved one into assisted living is never easy. We make sure placing them into our Phoenix, Arizona memory care residences is a decision you never have to regret. See firsthand how we make a difference in the lives of our residents. Contact us today and schedule a tour.
TOUR: To schedule a tour, call us at 602-456-1919