There's no wonder people (and baseball spring training) flock to Arizona during the winter to enjoy the mild weather. Lucky we get to live here!
We are appreciative of our special group of residents and the families we serve. We know that there is nobody who knows your parent quite like you do, and when we hear that we help people be just their son or daughter, rather than the focus on caregiving, that makes us feel like we are adding value to people's lives and relationships. Being told that "we got their back" and "we can finally sleep at night" helps validate our purpose.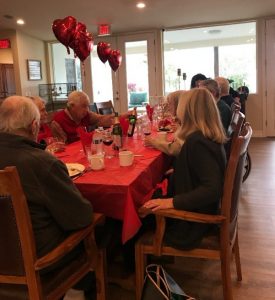 The Vista Living team loves it when they see family hanging out with mom and dad. Enjoy each other's' time and make memories, that's the essence of life.
Vista Living Camelback, our second assisted living home, is open. We are excited and grateful that we will be able to serve more families in the Phoenix-Scottsdale area and provide the best assisted living care through our Happy Elder Plan.
We had five new residents join us in February and our available suites are filling up. We still have available suites, so if you are interested in touring our communities, please give us call us at (602) 456-1919 or email us at info@vistaliving.net to schedule a tour.
February was filled with Love, Olympics, and Fun!
Valentine's Day Party:
Would you be my Valentine? Residents made Valentine's Day arts and crafts and then enjoyed an afternoon party filled with live music, delicious food, heart-shaped balloons, and cupcakes. Our favorite moments came when residents and their spouses started saying things like "we've been married for 56 years", "50 years". That's impressive!
Neighborhood Resource:
We have a lot of residents from the surrounding neighborhood. Some of the family members walk to Vista Living to visit. We think it's a great sign that family is over. This fits nicely with our Happy Elder Plan philosophy of Staying Connected to Community.
Testimonials:
We want to thank our families for their testimonials.
From the family of Virginia Dolores Scheibli:
Gabriela, you and your staff at Vista Living were truly an answer to prayer for my mom and our family. Our mom came back to life and although her time with you was short, it was full of life; Singing, exercising, games, and a little dancing. We want to thank each and every one of you for the amazing care you gave our mom, Virginia. You were each a blessing in your own way as we watched you care for our mom. Thank you for that gift. – Patrese & Karen
We would love to hear from you!
Are you a family member of one of our lovely residents or simply want to let us know how we're doing? We would greatly appreciate if we can get a review from you. Please email your review to Linda Olson, Director of Community Relations at info@vistaliving.net or call her directly at (623) 256-2430 if you have any questions.
Please check out us out at VistaLiving.net for our latest blog posts and Community pictures! Feel free to call us at (602) 456-1919. Thank you!
-Vista Living Team
Visa Living is the most equipped senior living home in the Phoenix-Scottsdale region. Each Vista Living home features 10 private bedrooms each with their own private bathroom, a demonstration kitchen with island seating, common areas that encourage lively activity, a patio with BBQ, and landscaped gardens and raised garden beds, for evening walks, family picnics, bird watching for all to enjoy.