"Have Fun and Enjoy Life and People will Seek your Company." That's a motto we go by. Hope you are enjoying Spring Time!
We are appreciative for our special group of residents and the families we serve. Many of our family members have been caregivers and now they can just be a son and daughter again without the worry and responsibility. Being told that "we got their back" and "we can finally sleep at night" helps validate our purpose.
The Vista Living team loves it when they see family hanging out with mom and dad. Enjoy each other's' time and make memories, that's the essence of life.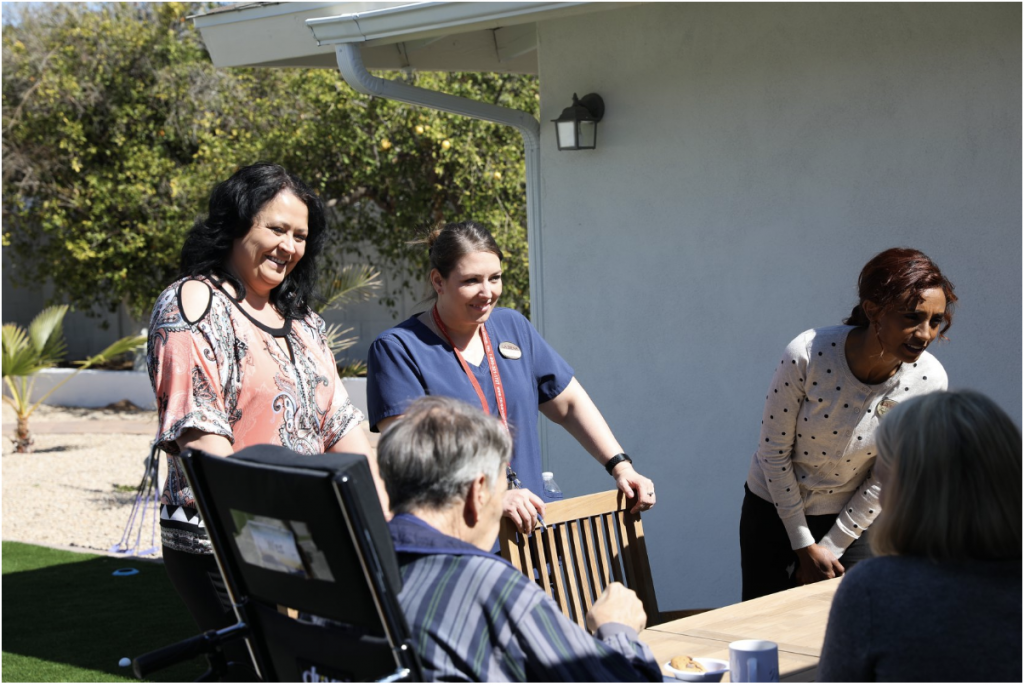 Vista Living Camelback, our second assisted living home, is open. We are excited and grateful that we will be able to serve more families in the Phoenix-Scottsdale area.
We have one suite available at Vista Living Arcadia, and we are now taking reservations for Vista Living Camelback. If you are interested in touring our communities, please give us call us at (602) 456-1919 or email us at info@vistaliving.net to schedule a tour.
Open House Party:
Vista Living Camelback opened its doors for an open house and invited hungry neighbors and healthcare professionals to a yummy lunch and dessert. There was not a bad seat in the house, as guest mingled with our staff in the living room or on the patio overlooking the elegant Camelback Mountains. Please come back for seconds! Bon Appétit.
Ever Heard of Mackinac Island?:
It's pronounced "MAK-in-aw" in case you wanted to say it out loud. It's an island in Michigan and apparently a fan favorite of some of our residents. In fact, one evening at dinner, vacations to this place came up and heads started nodding and stories started flowing. Later, we took a virtual excursion to Mackinac Island via YouTube, and then checked out other vacation hotspots like Sedona and Hawaii.
March Madness Brackets and… Flash Dance?:
Simultaneously, with the busting of all our March Madness Brackets (it was fun filling them out) – including early round exits of favorites University of Arizona and Michigan State University, the Vista Living family busted out into Dance. Yes, it has been Vista Living Co-Founder Kyle's lifelong dream to play "Eye of the Tiger" at specifically 2:00 PM on a Friday afternoon at the place he worked at. The place erupted into synchronized dance and Tai Bo-style exercise moves. More "Eye of the Tiger" moments expected and other silliness.
Neighborhood Resource:
We have a lot of residents from the surrounding neighborhood. Some of the family members walk to Vista Living to visit. We think it's a great sign that family is over. This fits nicely with our Happy Elder Plan philosophy of Staying Connected to Community.
Latest on the Blog: Why No More 4-Door Convertibles?:
Our co-founder Kyle had a great conversation with one of our residents, Bob, about cars from the 1950's and 1960's, because he once worked for a car company called Kaiser-Frazer in Detroit. He never was a car enthusiast but when we talked about the discontinued 4-Door Convertibles and why they didn't work out marketing wise. It made total sense. Read the entire story on the blog!
Testimonials:
We want to thank our families for their testimonials.
We would love to hear from you!
Are you a family member of one of our lovely residents or simply want to let us know how we're doing? We would greatly appreciate if we can get a review from you. Please email your review to Linda Olson, Director of Community Relations at info@vistaliving.net or call her directly at (623) 256-2430 if you have any questions.
Please check out us out at VistaLiving.net for our latest blog posts and Community pictures! Feel free to call us at (602) 456-1919. Thank you!
-Vista Living Team