About Us
What Makes Us Tick?
"Have compassion as well as ambition and you'll go far in life" – Fortune Cookie
We see ourselves one day needing the services that we are providing.  We've seen the inevitable, with our grandparents and parents, and in our decades of professional experience in senior care.  We fondly remember the residents who touched our lives; shared with us what really to value in life; and reminded us that what we are doing is not only a business but a mission.
We've been through your journey.  Getting phone calls in the middle of the night is usually never good.  Missing work to perform your duty as a family caregiver can put you in a place of stress and sometimes uncertainty.  What is certain is that we are here as a resource.  The senior living industry has evolved and will continue to evolve.  We believe the "cottage" model of caring for seniors in a home-like setting is the leading trend.  From a cost/value approach, it is the best application of resources – real estate, staffing, design functionality, and locations – to help get you what you need, a place that gives you peace of mind that everything will be okay.
What makes us unique is that we developed the Happy Elder Plan (HELP) framework to reflect best practices that can be applied within our assisted living communities and outside into the greater community.  We want to be a community resource, first, and then second as a business providing senior care services.  Not everyone is going to be able to afford years of senior care services.  Many of you are unpaid, selfless caregivers and need a "village" to help "buy time" until the day 24/7 assisted living in needed.  We've been there and want to help you every step of the way.    
Our Management Team
Every team member espouses a "Residents First" mentality and takes pride in the services we provide.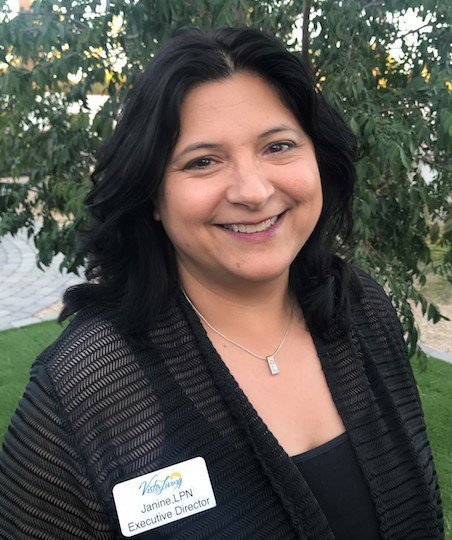 Janine Crump, LPN, LMT
Executive Director
Janine is originally from Baltimore, Maryland but prides most of her years in Boston, Massachusetts where she went to Lemuel Shattuck Hospital Nursing School and became a Licensed Practical Nurse (LPN). She has been a nurse for 30 years and earned a AS degree in Business. In 2013, she graduated as a Licensed Massage Therapist (LMT). Janine incorporates massage with nursing, as an alternative to pain medications. The most joy this industry gives her is providing dignity in seniors. She is married and has been blessed with two beautiful adult daughters and a handsome 12 year old son. In her spare time, she enjoys all types of music and dance. She is bilingual in Spanish and English from her South American parents. We love her decades of experience as a nurse, passion for providing great care and quality of life for our residents, professional network, and hands- on/can-do attitude.
Brett Weisel
CEO, Co-Founder & Owner
Brett co-leads quality control for Vista Living, and has over 25 years of business experience building teams and investing in companies that have lasting impact as a former investment banker and fund manager. Brett worked 16 years for two different investment banks where he would wake up at 3am and get into the office before 4am, as a Managing Director and later a Founding Partner. He was responsible for bringing together 100's of people in meetings so they could share their ideas and insights. He then founded and ran a real estate fund focused on single family homes for seven years. Brett has brought this dedication, work ethic, knowledge, vision and experience to Vista Living. He has a passion for creating exceptional properties that have open floor plans that bring people together in a fun, social and connected community. Brett brings his natural curiosity and hands-on attitude to support the team and build a company that provides high-quality senior care.
We love his attention to detail, willingness to roll-up his sleeves, and great vision for building living environments.
Kyle Oura
President, Co-Founder & Owner
Kyle co-leads quality control for Vista Living, and has nearly 10 years of senior care experience. Kyle is a CPA and self-proclaimed numbers guy who realized in his early 20's that he loved working with the elderly after his dad had a stroke and developed dementia. He then decided to work at AgeSong, a leading edge assisted living company in both finance and operations, and later moved his dad into his community – a full-circle life experience. Kyle has always dreamed of starting a senior care company based on his personal and professional experiences. He has worked at leading companies such as Deloitte, Prudential, and Greystar investing around $10 billion and served as a Board Member of Kimochi, a not-for- profit senior center.
We love his experience for caring for the elderly, attention to detail, and passion for creating fun environments for seniors. Kyle spends most of his free time creating experiences for his young children.
I used to get this "old man" feeling knowing that things will never stay the same. That one day, I would miss very much what I have today. I reminded myself of that when my dad went deeper and deeper into dementia. I had this fleeting opportunity to show him my gratitude and fulfill part of my life's obligation to make sure he is comfortable and around people who like him. As I continued to work in the senior living industry, people would still remind me about his smile. When I see pictures of my dad, I'm reminded of his friends in the senior home and the workers with big hearts who looked after them. I hope we can continue this magic with Vista Living and make every moment count.
Kyle Oura, Co-Founder, Vista Living
My introduction to senior living came when my 96 year old Grandmother "Grammy" (hope I get her genes) moved into a large senior living community across the country from her many family members and friends. The move ended up being a poor decision and experience for her. The community advertised a Four Seasons experience and did not delivery anything even close to this promise. The senior living community ended up being too sterile and impersonal. The culture was bureaucratic and authoritative. The staff had little or no time for individual needs and took away what she enjoyed without any explanation. We felt like our concerns for her were being ignored. Our Grammy would have had a much better experience in a more personalized and friendly environment that would have given her much more peace, joy and love through her last days. This experience really stuck with me.
After Grammy passed, I began learning more and more about assisted living until deciding to pivot my career towards creating better living environments for seniors. I used my background investing in housing and creating teams to help launch Vista Living with some of the very best professionals in senior living. Fortunately, I found that in Kyle, Gabriela and Linda. I feel very fortunately to have teamed up with people with such big hearts, engaging personalities, decades of experience, knowledge, motivation and passion for providing great care.
Before we opened Vista Living in Phoenix, Kyle and I spent two years researching the best partners, services, locations and assisted living design. The research included visiting over 50 assisted living communities in three different states. We took notes on what worked and what did not in each home, and most importantly what did the manager and care givers do to create the right care environment. We also built relationships with dozens of leading senior living experts for every aspect – care, services, architecture/design, etc. Every single detail of the community and the business were carefully planned, designed and implemented with compassion. I feel privileged to offer a better model for senior living.
Brett Weisel, Co-Founder, Vista Living

Arcadia
Address: 
5529 E. Calle Tuberia
Phoenix, AZ 85018
Phone: 602-456-1919
Email: info@vistaliving.net
Arcadia
Address: 
5529 E. Calle Tuberia
Phoenix, AZ 85018
Phone: 602-456-1919
Email: info@vistaliving.net
Camelback
Address: 
5528 E. Calle Tuberia
Phoenix, AZ 85018
Phone: 602-456-1919
Email: info@vistaliving.net

Camelback
Address: 
5528 E. Calle Tuberia
Phoenix, AZ 85018
Phone: 602-456-1919
Email: info@vistaliving.net